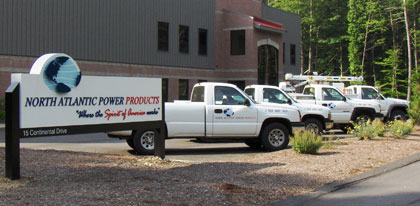 North Atlantic Power Products
15 Continental Drive
Exeter, NH 03833
Phone: 603-418-0470 or 888-460-7419
Fax: 603-418-0471
---
North Atlantic Power Products is the distribution arm for leading manufacturers of drive train products and related accessories. We supply products that connect the power source to the work that is being performed.
Each company we represent provides innovative new designs to solve your power transmission requirements. We bring together the strengths of each company to service you quickly, competently, and professionally.
We offer products for the marine, construction, forestry, recycle, mining, agricultural, and energy markets.
Whether you need a marine transmission, electronic control, clutch, pump drive, or speed increaser/reducer, contact North Atlantic Power Products – a leading wholesale and retail outlet for quality drive train manufacturers in the northeast.
NOTE: Not all products available in all areas.