Straddle Carrier Manufacturing, Reman, Rebuilding, Service and Parts
The Yard Bully, Great Lakes Power Service's Industrial Straddle Carrier, is a specialized vehicle designed to lift and move steel and other heavy items within industrial facilities.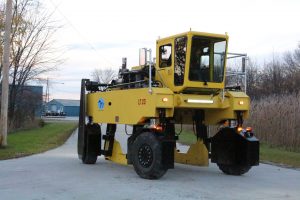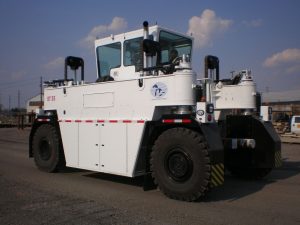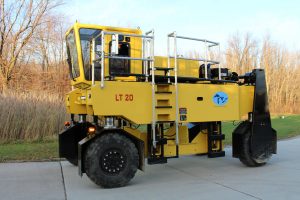 Custom Manufacturing
Yard Bully Straddle Carriers are available in all combinations of frame heights and widths to meet customer requirements. Available 20, 35 and 50 metric ton models – contact Great Lakes Power Service for more information.
Advanced Safety Features
Outstanding visibility of load and surroundings from the operator's station in sound and thermally insulated Panoramic View Cab. Straddle Carrier control system provides safety lockouts and restricts vehicle speed when the operator is not facing the direction of travel.
Lowest Operating Cost
Yard Bully Straddle Carriers feature ground level maintenance for nearly all systems. O Ring Face Seal Hydraulic Fittings are used to virtually eliminate hydraulic leaks. Self-Lubricating bearings used to significantly reduce the number of grease points. No drivelines, universal joints, or chain drives to maintain.
Straddle Carrier Service and Parts
Our professional, technical staff has decades of experience in straddle carrier repair and rebuilding. We can not only fix your unit, but also upgrade it with high-performance hydraulic systems, enhanced safety features and even fit it with a more ergonomic operator's environment. Our vast parts inventory ensures that the proper parts are on hand.
Contact Us 24/7 for Parts and Fast Repair Services
for your Power Transmission Needs